7 - FUN ART & Other Stuff
I decided to build my own golden "ARK OF THE COVENANT"… It's a full-size reproduction that I made from recycled materials as well as panels and angels cast from the "Indiana Jones" molds…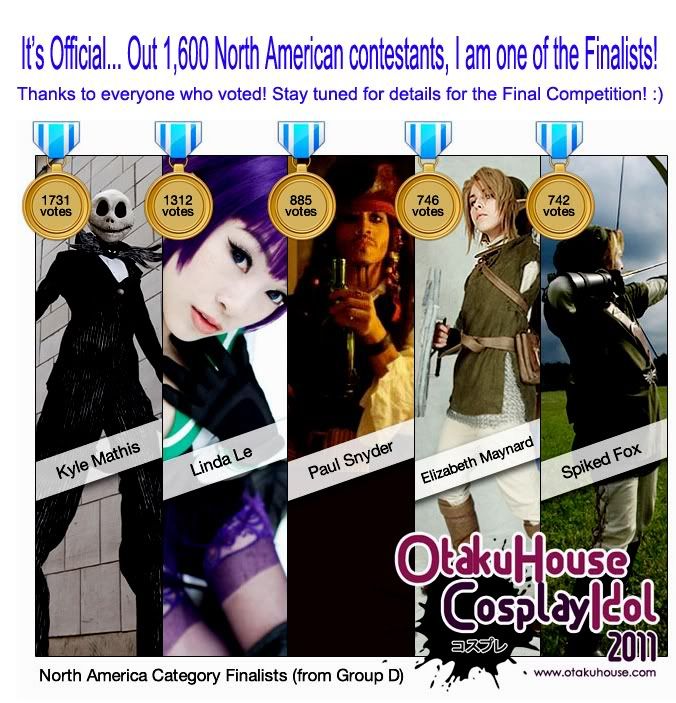 "There are a ton of Jack Sparrows in the Otaku House Cosplay Idol Qualifiers but North American Finalist Paul Snyder's Jack Sparrow is among the best. Paul is back with more Johnny Depp characters in the Finals!" -  Cosplay Idol Staff


Cosplay Idol Team's comments :
"When Paul first sent in his entry, he looked so much like the real Jack that we asked for a photo verification to make sure he didn't take Johnny Depp's screen shot! "
MARCH 25, 2010- The "Faux Zebra" Project…
I wanted to add an exotic touch to our sitting room so I made my own Zebra rug.
I used heavy automotive type vinyl, the kind with the soft white backing. I chose brown vinyl as it show through slightly through the white, giving it a more genuine "hide" appearance. I then printed several photos for reference, (It's been a long time since I painted stripes directly on a Zebra's back, LOL!). I used a mix of natural umber brown and ebony-black matte paints.
March 2010 - Painting REPLICA REPTILES —
I purchased several unfinished/unpainted replica snakes from MORGAN REPTILE REPLICAS and painted them.
They are cast directly from actual specimens and the detail in the molds is astonishing! These are used by universities and museums throughout the world.
"GABOON VIPER" Bitis g. gabonica (AFRICA)
Another large Gaboon Viper-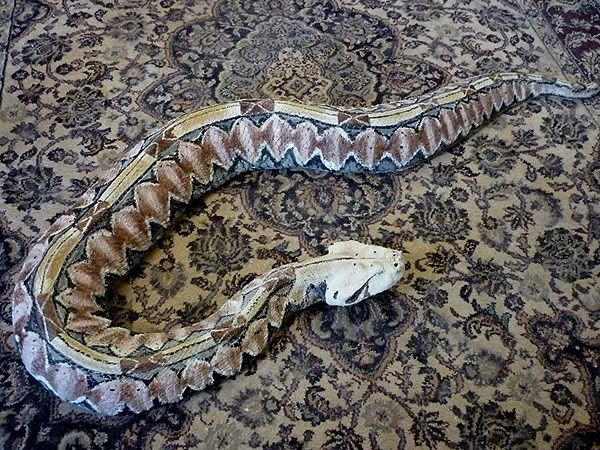 "TIMBER RATTLESNAKE" crotalus horridus (North America)
Angelina Jolie and Johnny Depp's life casts offered several challenges, but the most challenging was painting eyes DIRECTLY onto the eyelids as the eyes were closed on the original casts and not resculpted open, like the above Arnold and Patrick Stewart life casts. 

DECEMBER 4, 2009 - It begins… 

I decided to get back to basics in the studio. I've always been a big fan of The Rat Pack (Frank Sinatra, Dean Martin & Sammy Davis Jr) so I'm classing the joint up with a Rat Pack themed makeover.
 This pile of scrap wood, stuffing, paint and various adhesives will soon be a 1:1 lifesized prop of the legendary Frank Sinatra…Hopefully!
It was a forgone conclusion that in order to make the perfect Sinatra, I would have to build my own mannequin from scratch. At a slight 5 foot 7 inches, finding a commercially available mannequin would be next to impossible and even if I happened upon one with right height, the proportions would most likely be wrong. And really, it's much more fun to build your own.
DECEMBER 5, 2009-  The body is pretty much complete, minus the head of course.
There are many challenges I faced in putting this one together, one of which, was finding the correct era of clothing and getting the right fit.
Fortunately, I wear the same size suit jacket as Frank did in his younger years. The problem is finding a 36S with narrow shoulders and a tiny waist measurement! It is next to impossible to find anything smaller than a 38R jacket in a retail store and I wasn't going to spend a lot on something a mannequin would be wearing. I figured I could kill two birds with one stone and find the correct vintage style and smaller size shopping at my local thrift stores. I was able to locate two perfect matches at a store just a few blocks from my home. Being able to try them on myself, I was able to get the correct fit. The grand total for the two jackets was $6.99!!
A pair of my old dress slacks, a silk dress shirt finish off the main components of the outfit.
A styrofoam head is installed to make sure my measurements/proportions were correct. The Sinatra Life Cast will be added last.
The hands were another challenge and I was extremely fortunate to find a pair of slender adult male hands online. They are cast directly from real human hands and have every pore and fingerprint intact. I did a quick paint job to bring them to life.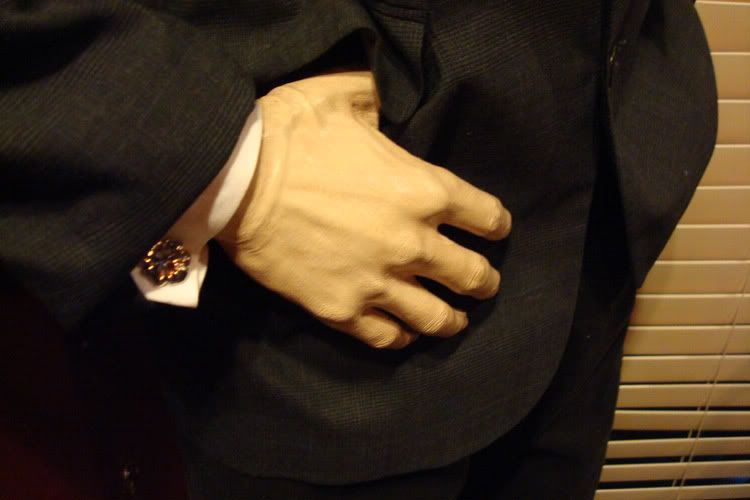 In order to give the "in studio" feel to the display, I fashioned a vintage-look microphone on a straight stand with the original CAPITOL RECORDS logo.
12/08/2009— I was lucky to acquire a rare life cast of Frank. This is how it arrived.
Painting the plaster life cast is no simple task. Installing the eyelashes is not easy, but installing each eyebrow hair, one at a time with tweazers is very difficult and time consuming.
And here is how it looks painted and installed in the body.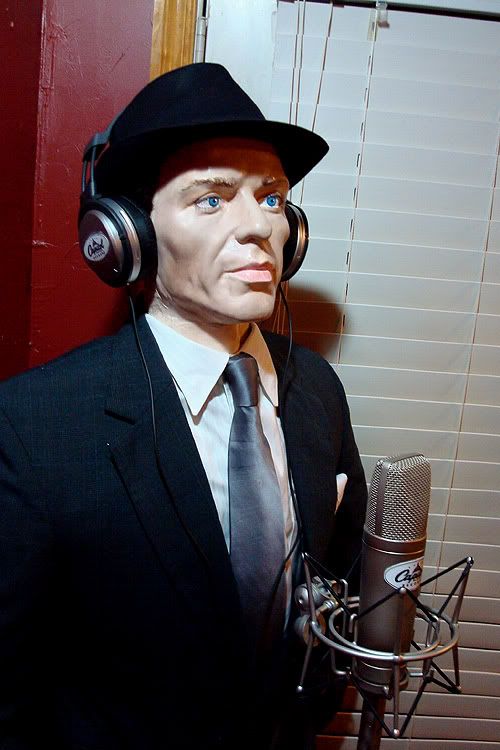 FEBRUARY 23, 2009–
DINOSAUR Fossils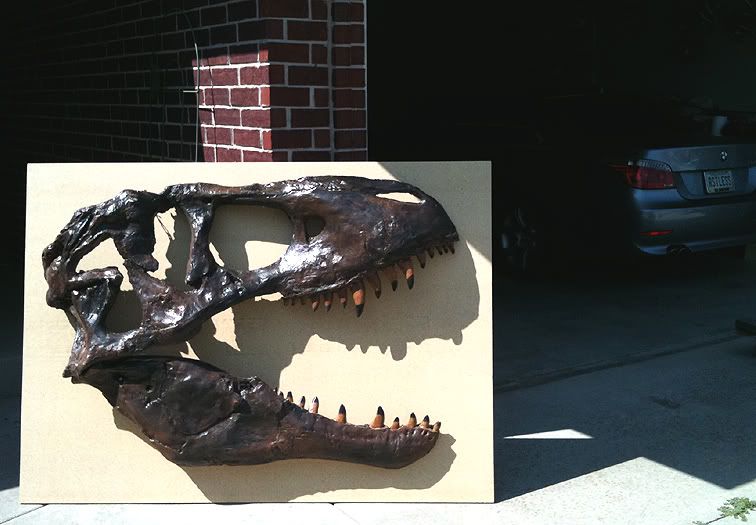 I completely painted/finished this half-skull cast of an adult Tyrannosaurus rex.
Here are more photos of my dinosaur collection.